Back to top
News and Announcements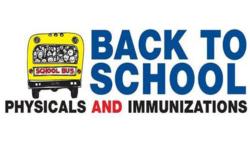 Don't delay, make sure your child's immunizations are up to date!

Don't wait till the last minute, make sure your child's immunizations are up to date!!
Please review the following especially if your child is entering Kindergarten or Middle School.
Students in Kindergarten through eighth grade (K-8) who are making their initial entry into a Florida school must present both a record of a physical examination completed within the last twelve months, and a Florida Certification of Immunization (Form DH 680) documenting age appropriate immunizations (compliant with State of Florida requirements) as listed below.

For students entering Kindergarten through 8th grade, the record must show that the student has met the minimal state requirements of:

4-5 doses DTaP (diphtheria-tetanus-pertussis)
4-5 doses Polio* (IPV or OPV)
2 doses MMR (measles-mumps-rubella)
3 doses Hepatitis B
2 doses Varicella (VZV)** or has had the disease as documented by a healthcare provider
1 dose Tdap (tetanus, diphtheria, pertussis)

NOTE:
* If the 4th dose, or last dose, of polio (IPV or OPV) vaccine were administered prior to the 4th birthday, an additional dose of polio vaccine is required. The final dose of the polio series should be administered on or after the 4th birthday regardless of the number of previous doses. OPV doses given in other countries in or after 2016 will be counted as invalid in the FLSHOTS. Child will need to be revaccinated with 4-5 doses of IPV.
** Varicella vaccine (VZV) is not required if varicella disease (chickenpox) is documented by a health care provider.